Tá chegando, Brasil. O que rolou no Lollapalooza Chile e você vai ver por aqui
>>
* O Skrillex está logo ali. O Foo Fighters também. O Alex Monkeys na fase Elvis também. E o nosso Lolla vai ser melhor que o do Chile porque aqui vai ter os Racionais. E o Jockey Club é legal (pelo menos era). Mas vamos focar no Chile, primeiro.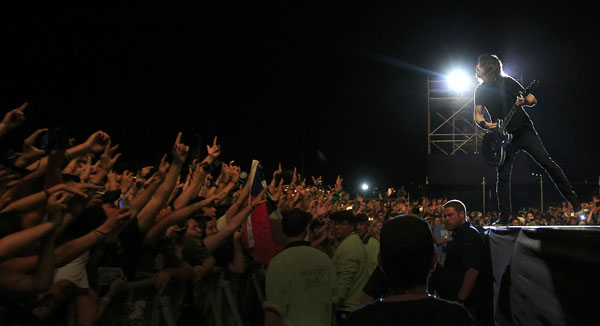 Mais de 100 mil pessoas (dizem informes oficiais…) passaram neste final de semana pelo parque O'Higgins, de Santiago, na segunda edição do Lollapalooza Chile, que neste ano reuniu mais de 60 atrações musicais. Com espaço variado, o festival que chega sábado ao Brasil teve de show de marionetes para crianças à apresentação pesada do Foo Fighters, que fechou o evento com o prometido show imperdível de duas horas e meia, com Dave Grohl & Cia. se matando no palco.
Com uma mudança substancial no line-up, lá eles tiveram o show da Bjork encerrando os trabalhos no sábado (com mais 29 dançarinos no palco), pouco depois do Arctic Monkeys, que encerrará aqui o festival no próximo domingo, com o Jane's Addiction tocando antes. No Chile, Perry Farrell não subiu ao palco com sua banda.
No sábado, o primeiro show "para valer" foi do Gogol Bordello, com todas suas referências possíveis ao Brasil. Com seus integrantes vestindo calça de capoeira e até camisa de gari do Rio de Janeiro, eles "enfrentaram o calor com canções frenéticas", descreveu a imprensa chilena.
Mesmo não sendo – no papel – a atração principal da noite de sábado, o Arctic Monkeys arrastou uma multidão para um dos palcos principais. Enfrentaram problemas com o som no começo do show, mas no decorrer as coisas foram se ajeitando. Abriram a apresentação com "Don't Sit Down Cause I've Moved Your Chair" e tocaram o tradicional set completo, com 20 músicas, fechando com o bis matador composto por "R U Mine?", "Fluorescent Adolescent" e "505".
No domingo, mais "rock", pouco tinha passado do meio-dia e o Foster The People já desafiava o sol escaldante, mas com um reforço de 10 MIL PESSOAS. Pensa. O megahit "Pumped Up Kicks", para variar, fez Santiago toda cantar a música. É o Indie fazendo história numa tarde ensolarada no Chile.
Quem também desafiou o sol foi a moçada incrível do Friendly Fires. Mas eles a gente já sabe que não ligam para essas coisas. O louquinho Ed Macfarlane fez seu show intenso de sempre, mesmo que nas primeiras músicas não se pudesse ouvir a voz dele direito, outra vez por causa de problemas de som. O TV on the Radio foi elogiado e o MGMT foi o de sempre: "músicas ótimas, show apático". Nem "Kids" e "Time to Pretend" animaram a galera.
Mas (quase) todo mundo estava lá para ver o Foo Fighters, obviamente. Com a mesma estrutura dos shows lá fora, incluindo a passarela que Dave faz questão de utilizar logo nos primeiros acordes do show, a maior banda de rock do mundo hoje fez seu prometido show de 2 horas e meia, "como se fosse o último", destacou a imprensa chilena. Desfilou hit após hit. Abriram com "All My Life" e seguiram com "Rope", "The Pretender", "My Hero", "Learn to Fly" e "White Limo", esta última dedicada ao… Skrillex.
Segundo relatos, todo mundo sobreviveu para curtir "o resto" do show.
No final, em dobradinha que já era prevista, Dave convidou Joan Jett para tocarem o clássico "Bad Reputation", a penúltima da apresentação, que foi fechada com um dos hinos da banda, "Everlong".
* A imprensa chilena destacou que algumas coisas que "não funcionaram" na organização confusa e caótica em 2011, foram melhoradas. Mesmo ainda não chegando ao ideal. Diante do alto número de visitantes, foram colocados mais funcionários fluentes em inglês e português como guias. Aumentaram o número de bilheterias e pontos de venda de comida e bebida. Mesmo assim, não foram suficientes para atender a demanda. Fora isso, entrou todo o atual aspecto "ecológico", com os projetos "Carbono Neutral" e "Rock & Recicle", dos quais participaram mais de 1.500 voluntários reciclando o lixo espalhado pelo parque.
>>